February Goals Recap
"We humans make plans, but the Lord has the final word." (Proverbs 16:1, CEV)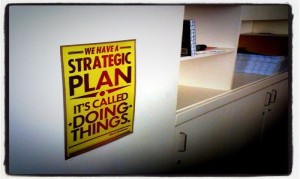 Sometimes, things don't turn out like we planned.
Today is the last day of February. Although I accomplished a few things, I fell short on several of my goals. I'm not going to beat myself up too much over it, though.
As I recently read somewhere, goals are written on paper – NOT carved in stone.
Here are the goals I set for myself on February 1 and how well I did on each of them:
I will complete 12 bodyweight/HIIT workouts this month.

I'm going to call this one a success, even though I only managed 10 workouts.

I will complete 4 weight-training (with dumbbells or barbell) sessions this month.

I achieved this goal!!

I will complete 4 books (either audio or print or Kindle) this month.

I'm embarrassed to say I didn't keep an updated list, so I had to check my Kindle and Audible apps for the count. I listened to the audio versions of Accidental Genius by Mark Levy and The War of Art by Steven Pressfield. On my Kindle, I completed It's Not About the Tights by Chris Brogan and Early to Rise by Andy Traub. I think I read a couple of other books somewhere in there, but I am not sure. At some point I finished Seth Godin's The Icarus Deception. I'm also part-way through two other books: Permission to Speak Freely by Anne Jackson and The $100 Startup by Chris Guillebeau.
I will sit for my Nutrition Coach Certification exam this month.

<===== FAIL. I'm adding this goal to my March list.

I will spend 15 minutes each day on my decluttering project.

<===== FAIL. This one also goes back on the March list.
As I think about why I didn't get to cross all 5 goals off my list, I come up with two things: winter weather and grant writing.
I hate to sound like a broken record, but I seriously do not function at my finest during the winter months. I need a minimum of 12 hours between sunrise and sunset. We're getting closer… As of today, the sun will set 11.5 hours after it rises. Of course, it also helps if I can SEE the sun during the daytime… and we have had a few days of dreary clouds.
Not everyone may feel like this, but I find that writing grant proposals is a major brain drain for me. I've worked on two narratives this month. Both required some digging into medical journal articles. Time consuming AND mentally exhausting. I'm fascinated by the focus of both grants, but my brain has turned to mush during the past several weeks. I still have budgets and other fun stuff to do for the grants, but I have finished most of the writing. If I can get them submitted by mid-March, I hope to have more mental energy to devote to studying nutrition and decluttering.
Tomorrow I'll post my goals for March.
And very soon, I'll share the other BIG DEAL that interfered with my goals this month. As the scripture at the beginning of this post says, God has the last word…
What goals have you achieved during the past four weeks? Has there been a time in your life when you made plans and later figured out that God had something else in mind for you? Leave a comment and tell me about it. I want to hear YOUR story!
About Brenda
Morning person. Introvert. Longtime runner. Erratic sleeper. Fitness junkie. Lifelong learner. Coffee addict. Volunteer. Health/Wellness advocate. Coach. Blogger.