Sunshine and Chocolate Help Keep Gray Days Away
It feels like it's been raining forever.
In truth, I think this is only the third or fourth day.
For the record, I am NOT a rainy day person. Throw several rainy days in a row in with the shorter days of fall and a good dose of nostalgia, and I become pretty much a total wreck.
Like I was today.
Today wasn't the best day for me to rummage through old photos. By the time I found the particular photo I was looking for, I was deep in a pit.
Wallowing. Gasping for air. Doing my best to keep my head above water.
No doubt some — probably MOST — people can look through family photographs and simply feel a little nostalgic.
Sometimes, I can do that… as long as I don't dig too deep or look at the wrong group of pictures.
Or think too much.
Today wasn't the day.
While looking for that certain photo, I discovered long-lost photographs that led my thoughts down a road to the Blues and more than a few tears…
Photos of my grandparents and great-grandparents.
Photos of happy times with my ex-husband.
Photos of awkward times with my ex-husband.
Photos of beach vacations with a friend who was later killed in a plane crash that made national headlines.
Photos of a beach vacation with my family… shortly before my ex-husband and I separated.
Photos of vacations with a friend who is now in a residential care facility, due to a progressive neurological disease.
Photos of my daughter's best friend in junior high… who was murdered nearly two years ago.
Photos of my mother… who passed away four years ago.
Picture after picture of people or places or events that brought back a flood of memories I normally try to avoid.
Fifty-six-and-a-half-years of my life in pictures.
Twenty-three years' worth of photos from a marriage that didn't last.
I need to confess here that I have never been the most organized with my photos. Unfortunately, I was never diligent about putting them in albums or scrapbooks. To make matters worse, my daughter rifled through them often so what little organization they had (kept in the photo store envelopes) disappeared over time.
At least she placed some of them in albums.
Randomly.
Then, a few months ago, the wife of my children's father returned every picture they had of my daughter…. baby pictures, senior pictures, Father's Day pictures, Christmas pictures.
All of them.
And, of course, the photos from my ex-husband's house were in no particular order. Simply stashed in several large zip-lock plastic bags and given to her one evening.
Searching through THOSE photos made me angry… and sad for my children.
Eventually, I found the photograph I was looking for. By that time, I'd searched for several hours. I was exhausted.
And I vowed to work on becoming better organized… Some day.
But, even through the clouds, the sun broke through. The Halloween photo brought a smile to my face.
After all — what's better than Sunshine and Chocolate?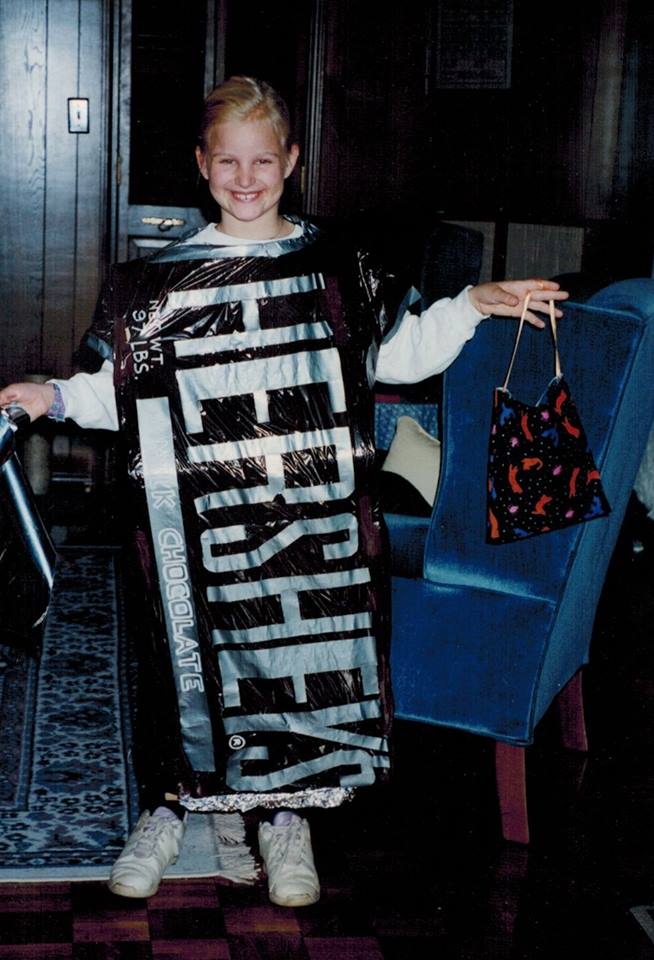 About Brenda
Morning person. Introvert. Longtime runner. Erratic sleeper. Fitness junkie. Lifelong learner. Coffee addict. Volunteer. Health/Wellness advocate. Coach. Blogger.