All My Loving
February 9, 1964 — the day my life changed forever.
I'll never forget that cold wintry Sunday evening. My parents hovered nearby as he told me to close my eyes and he'd kiss me. He told me he'd miss me. He even promised to write home every day and he'd send all his loving to me.
As I gazed into his beautiful eyes, he smiled. He took a deep breath and boldly admitted there was love all around. He had never heard it singing before, though – till he met me.
By this time I was awestruck, and soon he confessed — he had heard that I love him. He shook his head excitedly as he told me he knew that can't be bad. With a love like that, he knew he should be glad.
Yes, I loved him. Yeah, yeah, YEAH!
He disappeared for a few minutes, but it seemed like hours. While he was gone, I closed my eyes and daydreamed of our future together. I knew my life would never be the same,
The world would change forever after that night.
When he returned, the picture was so clear. The interference was gone. There was loud screaming in the background, but I filtered it out. I only had eyes for him.
Then we danced through the night. We held each other tight. And before too long… he fell in love with me.
As our time together came to an end, he pleaded with me. He begged me to please let him be my man. He asked me to please let him hold my hand.
I took a deep breath as he waved good-bye.
Then he was gone.
It wasn't really true love. It was simply an unrequited crush. My First Crush. A crush shared by many of the 73 million people who watched the Ed Sullivan show that night.
A crush on the "cute Beatle" – Paul McCartney.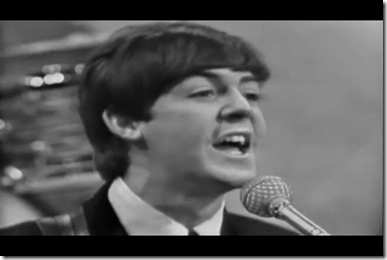 As time passed, I realized the distance between my home in the Midwest and Liverpool, England was an insurmountable barrier. Paul married Linda in 1969, and I accepted that he would never be my man after all.
While "Let It Be", "Hey, Jude" and "The Long and Winding Road" blared over the sound system at school dances, I looked for replacement crushes closer to home. Closer to my age. Closer to reality.
There was never another crush quite like that First Crush.
Several decades later I met the object of my Last Crush — and I married him. He isn't a celebrity, but I give him all my loving and he gets to hold my hand.
And he loves me. Yeah, yeah, yeah.
[This post is part of a BlogHop with the group known as Generation Fabulous. This month's topic is: "My Celebrity Crush".]
About Brenda
Morning person. Introvert. Longtime runner. Erratic sleeper. Fitness junkie. Lifelong learner. Coffee addict. Volunteer. Health/Wellness advocate. Coach. Blogger.