On the 80th Anniversary of My Mother's Birth
Today is my mother's 80th birthday.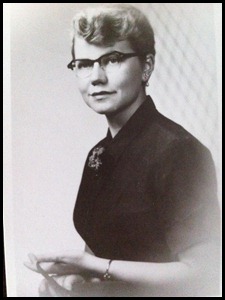 Unfortunately, she passed away nearly 4 years ago, so I can't tell her "Happy Birthday" except in a whispered prayer.
Mom miraculously lived for 18 years after developing viral cardiomyopathy. Five years after her diagnosis, she survived sudden cardiac arrest at home – twice. She was a stubborn woman of Swedish heritage who was too busy for sickness. She lived about 17 years longer than doctors thought she would. And her doctors can't explain why…
During those "extra" years, Mom saw the final half of her grandchildren come into this world. She saw her oldest daughter (me) graduate from college at the age of 40. She also made the dream trip of her life — a 5-week roadtrip and camping adventure from West Texas to Alaska.
In honor of her birthday, I want to share the eulogy I gave at her Memorial Service in Lubbock, Texas on May 15, 2009.
Imogene Hoffman was my mom for 52 years. That means I knew her longer than anyone else here today — except for Dad.
Trying to squeeze 52 years of "Mom" into 5 minutes is a difficult task, but I'll do my best…. Because Mom would expect nothing less from me. As she would often say, "A job worth doing is worth doing well." I hope to live up to that this afternoon.
One of my earliest memories of Mom is when I was just a few years old. I sat in a Methodist Church in Ogden, Iowa, with Dad, listening to Mom sing in the church choir. She loved to sing. She sang tenor when she was in high school, expanded into alto after she married Dad, and added Soprano to that at some point after she gave birth to four children. Mom never learned to read music. She had no formal training, but God gifted her with amazing vocal ability. She was a quiet woman with a big voice – a gift that several of her grandchildren inherited.
Other memories of my mother have rushed through my mind during the past few weeks, kind of like a collage I wish I could show you on a screen.
There are memories of living on the farm in Iowa… Mom had a garden and an orchard, so she spent lots of time in the large farmhouse kitchen cooking, canning and freezing her crops. To keep me occupied, she concocted homemade finger paints and play dough. For any of you who know how neat and clean my mother liked to keep things, just imagine – she actually encouraged me to be messy! During those same times on the farm, she taught me how to turn her winter overcoat into a boat and make a tent out of a blanket and a couple of chairs.
My mother loved sports. She enjoyed watching and – when she was much younger — participating. She was very athletic and physically strong. Both of those were good assets to have while she was raising four rambunctious offspring. Mom used to say we got our athletic ability from her and our stubbornness from our dad. Those of us who know how much she overcame during her lifetime – especially the last 18 years – might disagree with her about that stubbornness thing!
Mom was raised on a farm, where hard work was expected. There were always chores to do. She didn't have a brother, so she never really learned the difference between "boys' work" and "girls' work". As a result, she was an equal opportunity mom. Linda and I were expected to mow yards and take out the trash. Kent and Brent learned to cook and clean house. Just like I said – equal opportunity!
Mom didn't get the chance to travel as a child, although she always wanted to. After she married Dad, they made up for lost time and took us kids along for the ride. Every summer that I can remember included a two-week family vacation. We didn't have much money, but we made the most of what we had. Dad loaded a car carrier with a tent and sleeping bags. Mom packed a cooler and off we went. Breakfast was cereal eaten out of those little cereal boxes with the perforations on the front. Lunch consisted of bologna sandwiches at roadside picnic tables. We played in playgrounds while Mom washed cloth diapers in Laundromats. We camped in the rain and tried to keep our sleeping bags from getting wet. We saw mountains and deserts, the Grand Canyon and the Gulf of Mexico. We went to presidential birthplaces and historic sites and national parks and any other point of interest that didn't involve a pricy admission fee. Mom was pleased that we all enjoyed those trips so much that we continue the Hoffman tradition of summer vacations with our own kids.
Dad was often out of town when we were growing up, so it was Mom's job to get the four of us to music lessons, Scout meetings or baseball practice. No doubt, it wasn't easy keeping up with four busy schedules. She sacrificed a lot for us. Besides taxiing us from place to place, she also patiently listened when we came home after school and shared every little detail of our day with her. Mom was never really a patient person about most things, but she WAS a very patient listener.
The two things she would NOT sacrifice were her daily nap and her "Days of Our Lives", the soap opera she faithfully watched for more than 40 years. As unselfish as she might be with the rest of her time, those two hours of each day were HERS.
So many other details of the past 50+ years come to mind…. Snowball fights and building snowmen in Iowa winters. Summers at the lake in Minnesota. The day we got down the driveway, leaving on vacation, before Mom remembered my two-week-old baby brother Brent was still in the house. The times Mom got tickled about something and laughed till tears streamed down her face. Decorating Christmas cookies. The smell of freshly popped buttered popcorn on Sunday nights. All of these details – and many, many more – are undoubtedly recorded in the diaries Mom wrote in every day for more than 60 years. Our mother's very own version of "Days of Our Lives"….
In closing, I'd like to read from the book of Proverbs, Ch. 31 –
"She is clothed with strength and dignity, and she laughs without fear of the future. When she speaks, her words are wise, and she gives instructions with kindness. She carefully watches everything in her household, and suffers nothing from laziness. Her children stand and bless her. Her husband praises her: "There are many virtuous and capable women in the world, but you surpass them all!" Charm is deceptive, and beauty does not last; but a woman who fears the Lord will be greatly praised. Reward her for all she has done. Let her deeds publicly declare her praise."

Thanks, Mom! We love you, and we will miss you!
[You can read more about my mom in her obituary here.]
About Brenda
Morning person. Introvert. Longtime runner. Erratic sleeper. Fitness junkie. Lifelong learner. Coffee addict. Volunteer. Health/Wellness advocate. Coach. Blogger.