Early to Rise: Day 11 (Be the Change!)
"Crying may last for a night,
but joy comes in the morning." ~ Psalm 30:5 (NCV)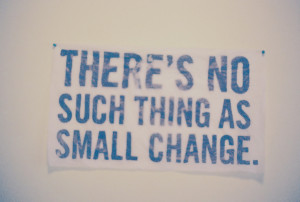 This morning I got out of bed over an hour earlier than I intended to wake up — 3:13 a.m.
This is NOT a good thing, because I didn't go to bed until after 10. I also didn't sleep very soundly for the five hours I was in bed. I was awake for an hour before I finally gave up and got up.
I will pay for this early wake-up call later today.
When I don't get enough sleep, I have trouble concentrating on the task at hand. Especially anything that requires rubbing more than two brain cells together at a time.
I also eat. My hunger hormones get out of hand when they think I haven't slept enough. I need at least seven hours in bed to keep them satisfied.
Too late for that now. Tomorrow is another day.
Today's topic in the Early to Rise book is "Change the world". Andy begins the reading with a question: "Have you ever been surprised by the impact you've had on someone?"
No doubt we all have some sort of impact (good or bad) on people and didn't even know it. I have had a few people tell me directly that I've helped them. I'm sure there are others I helped or inspired.
I'm also certain that I've had a negative impact on a few people during my life. Hopefully, it's just a few.
I think we get caught up with the idea we must do BIG things to make an impact. We don't realize how a simple smile or random act of kindness can influence other people.
Sometimes, our day-to-day behavior in times of crisis is our opportunity for the greatest impact. Whether we like it or not, people are watching us to see how we react. Will we bring encouragement or discouragement? Will we inspire or inflame?
As for me, today I'm spending the day at home. I'm putting the finishing touches on two grant proposals. I'll probably never know how far this project's impact will extend…
What is something you have done to impact someone else's life? What will you do today?
About Brenda
Morning person. Introvert. Longtime runner. Erratic sleeper. Fitness junkie. Lifelong learner. Coffee addict. Volunteer. Health/Wellness advocate. Coach. Blogger.