Early to Rise: Day 7 (One step at a time!)
"Tell me in the morning about your love,
because I trust you.
Show me what I should do,
because my prayers go up to you." ~ Psalm 143:8 (NCV)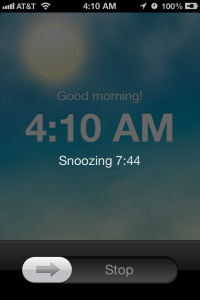 Confession: I went to bed at 8:00 last night… and the only reason I stayed up THAT late was because I was afraid I'd be wide awake at midnight if I went to sleep too early.
Today's reading in the Early to Rise book is about making small changes one step at a time.
As I've mentioned before, I'm studying for a nutrition coaching certification. The textbook gives a couple of interesting pieces of information: 
When only people change one habit every month or so, success rates are as high as 80%.

When people attempt to change two habits at the same time, success rates drop to 20% for both habits. (Essentials of Sport and Exercise Nutrition, 2nd Ed. p 263)
Another helpful hint for creating change is to think about how successful you think you can be with the new habit, on a scale of 1 to 10. Modify your expectations (such as, set the alarm for just 5 minutes earlier than usual) to something you feel 90 to 100% confident you can do. Once you've mastered the small change (5 minutes earlier), try another 5 minutes… or even 10!
(Note to my regular readers: I plan to post Part 2 of Hope and a Good Future this weekend. Once I finish the grant proposals I'm working on, I'll be writing more "regular" posts. Thanks for sticking with me through the Early To Rise Challenge!)
What type of success have you had with making a new habit? What habit did you change? Did you change one thing at a time or more than one?
About Brenda
Morning person. Introvert. Longtime runner. Erratic sleeper. Fitness junkie. Lifelong learner. Coffee addict. Volunteer. Health/Wellness advocate. Coach. Blogger.